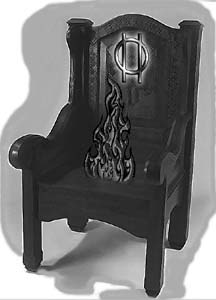 The Wellspring Bardic Chair is a competition of performing arts that has been held most years since 2011. There was a hiatus that began during the Covid-19 pandemic, but we are returning to holding it as in years past, with some changes in the format, and a tangible prize in addition to the glory of being one of the fairly small number of people who have held the title.
All who wish to compete, and are not the current Wellspring Bardic Chair or involved in judging the competition, are eligible.
The competition will be judged by a team of 3 judges, all former Wellspring Bardic Chairs, and led by the ADF Bard Laureate. They will factor in both their observations about technique as well as audience reactions.
Part 1: May 26 – Prepared Performance
During this portion of the competition, each bard will have up to 10 minutes to perform their set of prepared works which must include:
Spoken poetry
Song
Storytelling
The bard may make use of whichever props or instruments they believe will enhance their performance, but should factor in that time spent on stage preparing their instruments and props is part of their 10 minute performance.
At the end of this session, assuming that at least 4 bards are competing, bards will randomly be assigned 1-2 collaborators to work with for Part 2 of the competition. Bards have 24 hours to work with that collaborator to create the performance they will do for the next round.
Part 2: May 27 – Collaboration and Improvisation
Each team of bards that was assigned the previous day has 5 minutes of stage time for a performance of their choice. This performance may choose to highlight skills that were not formally part of the previous rounds, such as acting or dance. Judges will consider, in addition to the overall quality of the performance, how well each bard helps to highlight and enhance the skills of the other bards they are working with.
The final task for a would-be Wellspring bard is a performance on demand. The judges will announce a topic. The bards then have 9 minutes to compose a poem or song that is 9 lines long related to that topic. Bards will then be asked to perform their work. Judges will consider both their composition and their performance.
Prizes
The winner of the competition will be announced the evening of May 27th, at our bardic concert, and will receive:
Custody of the Wellspring Bardic Chair necklace, an item that has been passed between winners since the start of the competition.
A $50 cash prize.
Free admission to Wellspring 2024.
A small pin
Entry on the roll of winners below
Past Wellspring Bardic Chairs
Diane "Emerald" Bronowicz Egelhoff
Melissa Ashton
Maria Stoy
Ian Corrigan
Julie Desrosiers
Dave "Thexalon" Kleinschmidt
Jan Avende
Rowan Grove
Gwernin Grove
Mike Biershenk